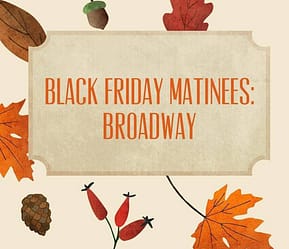 Anyone in NYC and need something other than Shopping to do on Black Friday?  Petite Seat (a member of the Broadway Makers Alliance) has put together a list of Broadway Musicals that will be offering Matinees on Black Friday (along with their age recommendations for youth attendees).
Sitting in a theatre on Black Friday sounds divine!
Did you know that the day after Thanksgiving is not only a great time for shopping, but it's also a fantastic time to catch a Broadway Matinee! Most shows offer a Friday matinee.
Here is a list of all the family-friendly Broadway shows that have a performance the afternoon following Thanksgiving – Friday, November 23rd at 2PM, along with our Petite Seat Age Recommendations. Remember to use one of our favorite tips too – purchase directly from the theatre box office to save on fees! Use this week to purchase tickets – many of these shows may be sold out by next Friday!
Visit our website for full details and tips on each one at www.petiteseat.com!
Aladdin: Ages 5+

Anastasia: Ages 8+

Frozen: Ages 6+

Harry Potter and the Cursed Child (Part 1): Ages 10+

The Lion King: Ages 6+

My Fair Lady: Ages 10+

Once on This Island: Ages 10+

Phantom of the Opera: Ages 10+

The Play That Goes Wrong: Ages 6+

School of Rock: Ages 7+

Wicked: Ages 8+
If you go … let us know what you see!