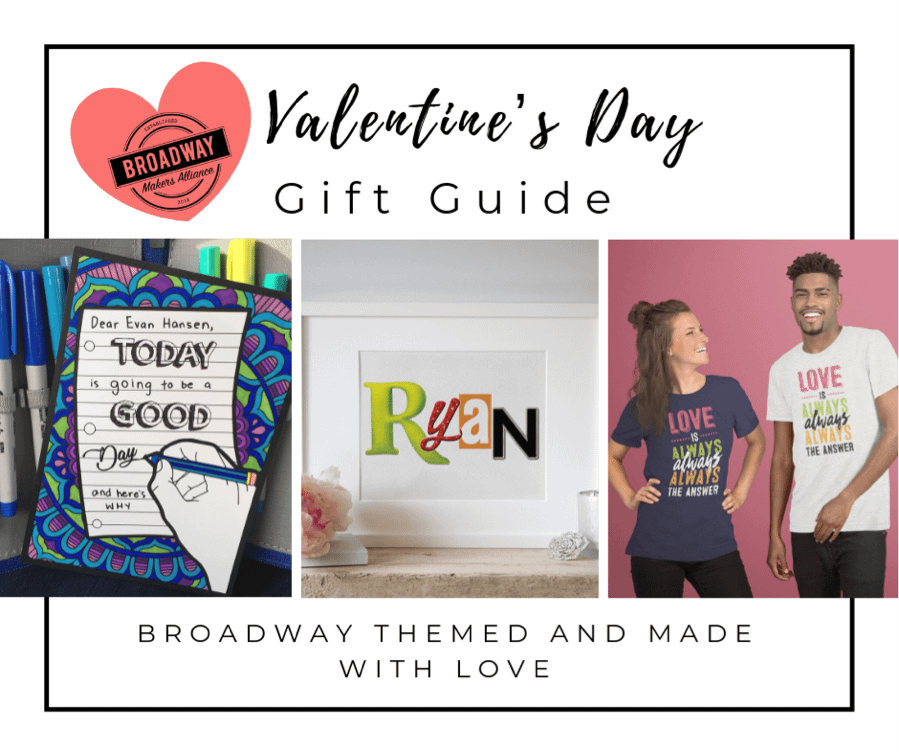 Valentine's Day is right around the corner, and we are here to help you find the perfect gift for your theatre loving loved one!
---
For your Best Friend:
"For Good" Best Friends Bracelet Set
This Wicked the Musical hand knotted friendship bracelet set is the perfect gift to share with your best friend.
---
For your favorite Broadway fan of any age:
Personalized Broadway Show Logo Name Art
This one-of-a-kind gift is sure to be treasured by your loved one! The name of your choice is painstakingly arranged using the letters from the logos of your favorite Broadway shows on either 8×10 or 11×14 card stock. Printed in high definition with quality ink, your art print is ready to frame and gift. Please allow one week between order and shipment, although most proofs are mailed within 24 hours.
---
For your fashionable love:
"Measure in Love" Bag
SCENERY makes bags and accessories out of retired theatrical materials, and donates a percentage of every purchase to TDF to take kids to see theatre in New York City! When a show moves out of a theatre, some curtains remain. Black drops, called legs or wings, hang on either side of the stage separating the world onstage from the world offstage. They are not owned by any one show, but used to tell many stories. Now these retired legs have a new story, with this Rent inspired message. "Measure in Love" this Valentine's Day, and always.
---
For anyone you're bananas for:
pin back button set: king kong
This is a fun pin back button set featuring images from the groundbreaking Broadway musical, King Kong. It has two (2) buttons, one 1″ button of our Heroine, and one 2.25″ button of the show's namesake. Keep both buttons for yourself, or share one!
---
His & Hers: For anyone who brings Color into your life:
Love Always T-shirt
Spread the love with this positive message! Inspired by the moving speech delivered by Melissa Anelli at BroadwayCon 2017, this t-shirt is the perfect gift for your friends, family or loved ones. A portion of all the profits goes to support BC/EFA.
---
For anyone who brings Color into your life:
Coloring Broadway Coloring sheets
Broadway + Coloring + Chocolate = The PERFECT Valentine's Day gift for that special someone you know LOVES the theatre!
For our Broadway Romantics: Spend an evening connecting over Broadway love songs from Waitress (Ogie's song "I love you like a table" or Hamilton's "Helpless".  Bond over your love for Dear Evan Hansen, Newsies, or Mamma Mia.  Put on your Broadway playlist, sing a few show tunes, get those Sharpies out, and let the Creativity flow. 🙂