It's the most wonderful time of the year!
It's the Broadway Makers Alliance Holiday Gift Guide time!

Snuggle up with some hot cocoa, light a fire in your fireplace, and start checking off people on your holiday gift list. We are here to help!
And speaking of helping, use code: BMAHOLIDAY at any of these shops for a discount! Now until Dec. 13th!
Coloring Broadway – www.coloringbroadway.com
Inspired by Broadway, Colored by YOU! Add your own colors to the lyrics you love. Great gifts for theatre nerds of all ages. Turn on your favorite cast album, grab your Sharpies and reconnect with the Musicals you love.
Coloring Broadway's newest collections include coloring pages inspired by Six the musical, Hadestown, Moulin Rouge AND a special collection just for our Theatre Nerds! Our Mean Girls stickers are also super FETCH and need to be on your water bottle, like now!

Tatro – www.tatrotoy.com
Grab the toy that puts creative kids in the driver's seat to create with unlimited imagination. Tatro™ uses Magnetic Magic™ to build scenes and move characters. Tatro™ is best suited for Kids 3 – 103.

Be a superhero and dodge tall buildings with the Superhero Metropolis Tatro™ Playset or dive into a bubbly underwater world with Natalia Narwhal's Mermazing Adventure Tatro™ GO! Travel Playset. This holiday season, choose imagination.
Scenery Bags – www.scenerybags.com

Bags made from Broadway backdrops and jewelry made from stage floors!!! Scenery Bags handmakes bags and accessories, made from retired theatrical materials! A portion of every purchase is donated to take kids to see theatre.
Looking for the perfect, unique gift for your theatre lover? Give them an actual piece of their favorite show! A bag made from the backdrop used in "Mamma Mia" on Broadway, or earrings made from the stage floor of "The King and I" National Tour! Coolest gifts ever? We think so!
Laura Bonacci – www.laurabonacci.bigcartel.com
Theatre inspired fine art prints and illustrations perfect for any Broadway loving home! Laura Bonacci captures the magic of your favorite performances and stories through energetic drawings, meditative paintings, and bold prints.
Laura Bonacci's latest products include various musical theatre illustrations inspired by Great Comet, Hadestown, and Beetlejuice! 8"x10" and 5"x7" prints available for all items listed on her online store.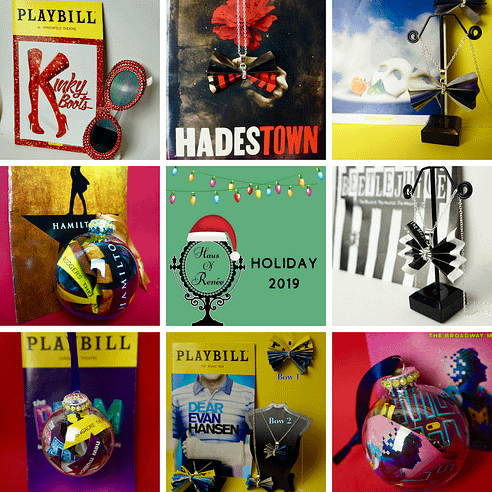 Haus Of Renée – www.hausofrenee.com
The Haus Of Renée Broadway Lovers Collection is a one stop shop for every Broadway fan this holiday season. This maker turns Playbill covers into fine jewelry as well as collectors ornaments. You can also shop the collection of glam sunglasses which are inspired by Playbill cover art, letting you wear your favorite shows in a unique way. Get an extra 10% off any item in the shop by using the BMA discount code.
Sparkle! Designs – www.shopsparkledesigns.com
Fun, unique and creative jewelry. art and gifts with a pop culture flair. Our handcrafted jewelry features quotes from all your favorite Broadway shows, books, TV and film fandoms hand stamped into jewelry for every day! We also feature art, mugs, and so many other great gifts – there is something for everyone on your list!
Our most popular product, our hand stamped necklaces are made to order. You choose the metal color, shape font and how it all comes together. If we don't already have your quote listed, no worries, we will make it! We've added loads of brand new ornament styles this year as well!
An Actor Plans – www.anactorplans.com
An Actor Plans is the brainchild of Melissa Crabtree, a working actor based in Chicago, as a way to mash up her love of theatre and organization. Here you'll find stationery products for the theatre lovers, performer and technician. Many items are starring Mabel the Cat, based on Melissa's real life pet. From stickers to pins and everything in between you'll find something to celebrate your love of theatre here!

Broadway Wiz – broadwaywiz.com/store
Broadway Wiz was founded by Joy & Serena, Broadway enthusiasts who wanted to share their love of theater. What started out as a simple blog with tips and tricks for other Broadway fans, has evolved into a full time passion. We work hard to bring you interviews with stars, original features, show reviews and lots more!
With designs inspired by our favorite Broadway shows, our merch includes clothing, tote bags, stickers and more. Check out our latest products featuring Beetlejuice and Mean Girls!
Broadway Buttons – www.broadway-buttons.com
Creating unique keepsakes from Broadway and Regional Playbills!
This Mean Girls inspired keychain features a fun faux fur pompom, a kawaii style 'Burn Book' and a round key fob made from a real Broadway Playbill program! Each piece is completely handmade and one of a kind!
Still in the shopping mood? Head to our website to browse our other members and keep checking off those theatre loving boxes. (link to member page)
Happy Holidays from all of us at the Broadway Makers Alliance!